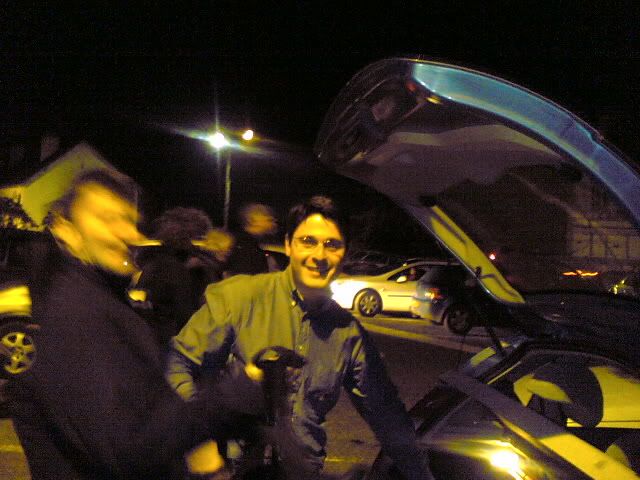 Franck (siluet) and Handsome Marco
OK, Finally we arrived in station Treggor at 11.h00 PM it was late about 30 minutes, and we saw Jean-marc waiting us, wow he become more fat and look very young hahahah, I think his very happy living in Bregtane, this is small town not like Paris is big city, he told me that he living in Kampong called perros-Guirec, from the station we arrived it took 30 minute to his house.
the fact we are not take a train directly to Bregtane is the way to save some money hahahah. That's the friends are for.

When we arrived I heard wave from the sea, it was bit cold last night but it was OK, I also saw a lot of star in the night with wave from the sea it was wonderful very nice harmony really wonderful,

We are discussing a lot and he was preparing food, maroccean food is like tajin, it was nice, after that we talk a lot of things, we took some time to out together to see the beach in 02H00 PM in the morning is crazy but its fun because no body in the beach we are doing small jogging, very coold but is crazy, I never did this kind of thing hahahaha.
So we back at 03H00 and go to sleep, I am heard alarm from my phone at 6h00 but couldn't weak-up just switch off the phone and sleep again, then I miss the sahur, we are weak-up at 11.30 hahaahha
Since I am doing ramadhan, my friends are do some breakfast, meantime i am updating my blog and called family using skype-out, take about One Hour on the phone and cost me about 1.5 euro is really cheap.